We spent the most relaxing part of our trip so far in the backwaters of Kerala. Many tourists explore the backwaters on luxurious house boats, but we decided to stay in a homestay that had canoe tours. Emily found a place on Munroe Island that had amazing reviews and availability on the days we were interested.

Getting to Munroe was an adventure. Only a few non-reservable trains stop at the small, local station. We were a bit nervous about how busy the train would be. Over the Christmas / New Year period, trains are very busy in India and we hadn't been able to get any reservations. We went to the train station 2 hours early. The train we thought we could catch wasn't running, but luckily there was another an hour later. We had no problem getting seats. The train started in Ernakulam, so we were able to board 30 minutes early. It only got busy for a few stops in the middle of the run, when some young kids gathered around Emily to watch her play on her iPad.

The homestay was a real family operation. Vijeesh was our host, tour guide, and personal comedian. He obviously loves entertaining foreign guests and was genuine in his desire to improve our experience. His father took us on a canoe tour and his mother and sister took care of the cooking and cleaning. The family started by providing canoe tours 10 years ago and has only recently started offering accommodation. The house we stayed in was only 9 months old, and the effort Vijeesh put in to ensure it lived up to Western standards showed. The room had a nice bathroom, a mosquito net (which we didn't need), and even spring mattresses (the first we've seen in India).

The highlight of our time on Munroe was the canoe tour. We left early in the morning, silently gliding down narrow canals. Our guide pointed out local birds, fruit trees, and tiger prawn farms. We stopped along the way for a cup of Chai and to see how coconut husk fibres are turned into rope.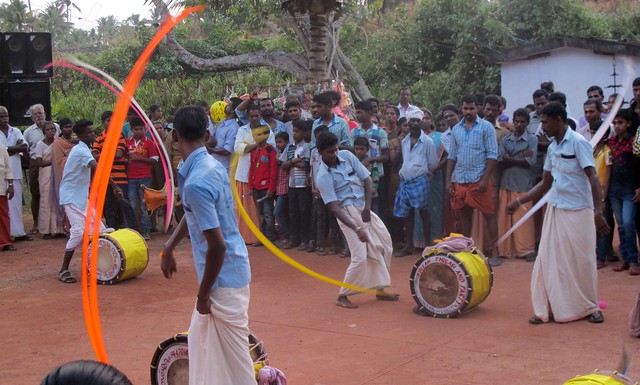 While on Munroe, Vijeesh was ready to show us around and be our tour guide. He took us to the local temple festival, where costumed actors reenacted Hindu stories and drummers performed complicated routines. We were lucky to catch this annual festival – seemed like a real draw for locals who all put in money to bring the performers to town. We also spent time walking around on our own, swimming in the river, and I went for another run. The backwaters are definitely more relaxed than the city, which made for enjoyable exploration.

The backwaters are rich in animal and plant life. We saw eagles, hawks, kingfishers, and cranes flying around. Vijeesh pointed out pepper, cinnamon, nutmeg, and cloves growing. And although few fruits were in season, we saw mango, papaya, pineapple, apple, and coconut trees.